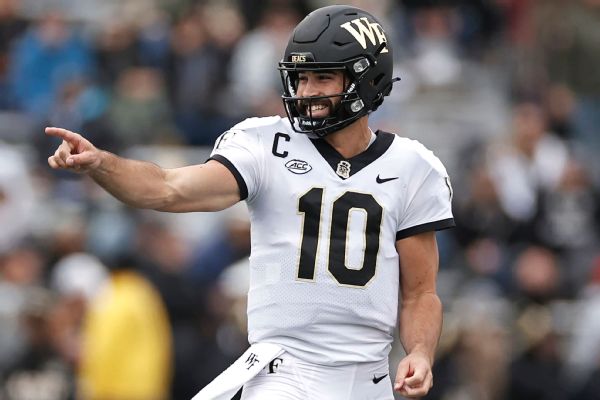 Sam Hartman, widely regarded as the top transfer quarterback this offseason, is heading to Notre Dame. He announced his decision on social media Thursday and will spend his final year of college eligibility with the Irish.
Hartman's decision to pick Notre Dame had been expected since he entered the transfer portal Dec. 27.
Onward. #GoIrish pic.twitter.com/cUfPyqQlQ6

— Sam Hartman (@sam_hartman10) January 5, 2023
Hartman brings a dynamic element to Notre Dame's offense, as he is the ACC career leader in touchdown passes with 110 in five seasons at Wake Forest. He is second in ACC history with 12,967 career passing yards, behind only NC State's Philip Rivers.
He joins a Notre Dame program that is projected to start next season highly ranked, as the Irish finished 9-4 and won six of their final seven games. That included a bowl victory over South Carolina, an upset of Clemson and a blowout victory at Syracuse.
Last year's starter for the Irish, Drew Pyne, went 8-2 but has transferred to Arizona State, leaving the position in flux. Sophomore Tyler Buchner threw for three touchdowns in Notre Dame's bowl victory, but his experience and production aren't close to Hartman's.
Hartman went 27-18 as a Demon Deacons starter, including a 19-8 record the past two years and an 11-3 mark in 2021 that tied the school record for victories in a season. He was projected as a late-round draft choice, which in part led to his decision to play elsewhere.
This year, Hartman threw for 3,701 yards and 38 touchdowns, playing in 12 games after missing Wake Forest's season opener with a blood clot.
Notre Dame opens the 2023 season in Ireland against Navy, hosts Ohio State on Sept. 23 and travels to Clemson on Nov. 4. Hartman will see his old teammates and coaches across the sideline when Notre Dame hosts Wake Forest on Oct. 28.