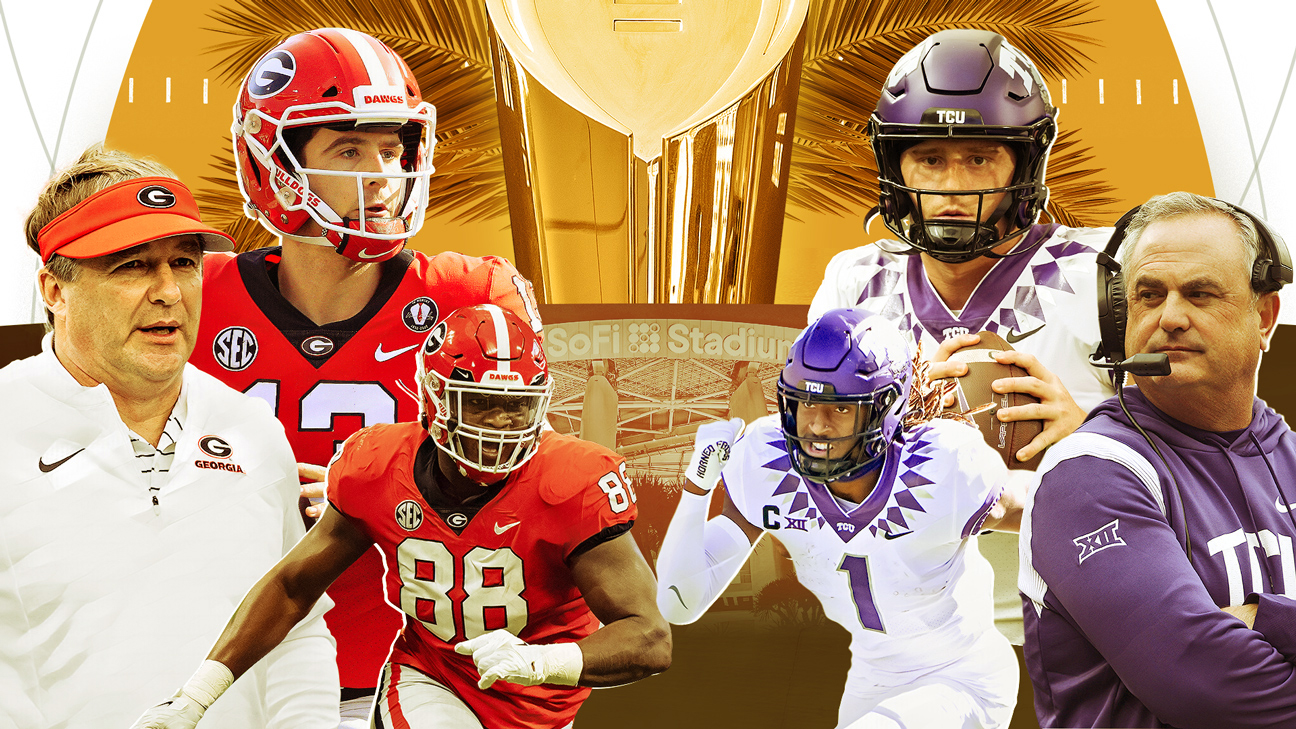 Admit it, you didn't think they'd do it.
Not TCU, the team seemingly everyone outside of Fort Worth, Texas, has been predicting to lose week after week. Oh sure, the College Football Playoff Semifinal at the Vrbo Fiesta Bowl was going to be a good game, but TCU actually win?! Nah. Michigan was gonna roll.
Instead, it rolled over.
Few if any gave No. 3 TCU much of a shot to be here, and that might have been motivation enough for the Frogs to advance to the CFP national championship game, where they will face defending national champion and No. 1 Georgia on Jan. 9 at SoFi Stadium. Following a remarkable comeback against No. 4 Ohio State in the CFP Semifinal at the Chick-fil-A Peach Bowl, Georgia can become the first program to win back-to-back national titles since Alabama in 2011-2012. Since 1990, the only other schools to win back-to-back national titles are Nebraska (1994-95) and USC (2003-04). With Georgia's win on Saturday, the program matched 2015-16 Alabama for the most wins over a two-season span in SEC history with 28.
There's no question it's going to be a monumental challenge for TCU, which went 5-7 a year ago and didn't win its conference title game this year, but insurmountable? This team of underdogs that was picked to finish seventh in the Big 12 is used to the doubts.
All season long — right up until the clock expired at the Fiesta Bowl — TCU has exceeded expectations. Sure, the beloved Frogs have captured the country's attention, riding the psychedelic wave of something called a Hypnotoad. Sincere respect has been a little tougher to come by. If back-to-back wins against Michigan and Georgia don't do it, nothing will.
While Georgia is in the midst of building the sport's next dynasty, TCU is trying to win the program's first national title in 83 years. TCU has an opportunity to become the first team to be unranked in the preseason AP poll and win the national title since Georgia Tech in 1990.
Not that anyone outside of Fort Worth will be giving the Frogs much of a chance to actually do it.
CFP National Championship Presented by AT&T
When: Monday, Jan. 9 at 7:30 p.m. ET
Where: SoFi Stadium, Inglewood, California
How to watch: ESPN and ESPN App
Opening line from Caesars Sportsbook: Georgia (-13)
Jump to:
Coaches | Paths to the championship
Key players | X factors

The coaches
Sonny Dykes discusses why the players believing each other played a huge factor in TCU's 51-45 win over Michigan.
TCU's Sonny Dykes: Known for his down-to-earth, unassuming personality, Dykes has catapulted TCU into the brightest of lights, elevating a team that wasn't ranked this preseason to the national championship game. He worked magic, navigating the Horned Frogs through nail-biters and comebacks all season, but on Saturday evening when it mattered the most, TCU had the upper hand for all four quarters. Dykes, who became the first head football coach in TCU and Big 12 history to start 12-0 in his first season, assembled a staff that outcoached Michigan's sideline for most of the game. It's his second stint with the Frogs, as Dykes was an offensive analyst on the 2017 TCU team that went 11-3 and played for the Big 12 title. The son of legendary Texas Tech coach Spike Dykes was hired at TCU after four seasons at SMU, where he led the Mustangs to three straight winning seasons for the first time since the mid-'80s and their first back-to-back wins over TCU since 1992-93. If you can't beat him, hire him.
Georgia's Kirby Smart: In seven seasons, Smart has positioned Georgia to become the next Alabama — if it isn't already. Smart, now 3-0 in CFP semifinals, won his 80th game on Saturday, highlighting a résumé that includes five SEC East titles and two SEC championships. No win was bigger than last year's against Alabama, which earned the program its first national title in 41 years and truly began to tilt the balance of power in the SEC. Smart, who spent nine seasons as Alabama coach Nick Saban's defensive coordinator before he was hired at Georgia, took Saban's championship blueprint with him to Athens. He has developed the culture, lured in the program's seventh top-three signing class and put the program in position to win it all — again.
---
How they got here
TCU: The Horned Frogs were picked to finish seventh — seventh! — in the Big 12. Instead, the Frogs became the first Big 12 team since 2009 to complete the regular season with a 12-0 record, but it rarely came easily. The Horned Frogs repeatedly flirted with disaster, winning five games this season when trailing after halftime, but ended the regular season with perfection. Despite a heroic effort from quarterback Max Duggan, TCU lost to Kansas State 31-28 in overtime in the Big 12 championship game. The Frogs couldn't have picked a better way to lose, though — a close game to a ranked opponent they had defeated during the regular season. TCU was still able to boast a win against the Big 12 champions, an important claim to impress the selection committee and maintain its No. 3 ranking without a conference title. Dykes has elevated the Frogs' offense to one of the nation's best, and Duggan has emerged as one of the most prolific deep ball passers with an FBS-leading 13 completions of at least 50 yards.
Last national title: 1938
Georgia: After winning the program's first national title since the 1980 season, questions immediately surfaced if Georgia could do it again — this time without five first-round NFL draft picks who left the defense. Well, here the Bulldogs are again, one step away. It began in the season opener with a complete dismantling of Oregon in a 49-3 win that continued to resonate through Selection Day. When the Bulldogs defeated then-No. 1 Tennessee on Nov. 5, they established themselves as the clear-cut No. 1 team in the eyes of the selection committee and never gave anyone a reason to doubt it. With a commanding 50-30 win over LSU in the SEC championship game, Georgia cemented its place in the CFP again thanks to another stellar defense and the leadership of quarterback Stetson Bennett. The defense entered the semifinal allowing the second-fewest points per game in the FBS.
Last national title: 2021
---
Key players
Stetson Bennett can't find the words to say after Georgia escapes with a miraculous win over Ohio State.
TCU: QB Max Duggan. He began the season as TCU's backup quarterback and is heading to the national championship game as the Heisman runner-up. It's an improbable story that mirrors that of the entire team, as the Frogs have been so difficult to bring down. Duggan, who led the Big 12 in passing yards and passing touchdowns, has been one of the toughest players in the country to defend because of his sheer will and his combined ability to run and throw the deep ball. His 76-yard touchdown pass to Quentin Johnson on Saturday was the longest reception Michigan allowed since 2019. He entered the game having thrown just four interceptions all season but threw two against Michigan.
Georgia: QB Stetson Bennett. His journey from a walk-on in 2017 to last year's national championship MVP has been well-documented, but his story isn't over. The Heisman Trophy finalist enters his second straight national championship with a 28-3 record as Georgia's starter and with the edge in postseason experience against TCU's Duggan. Bennett's poise and confidence has been critical to Georgia's success, and he has been driven — not deterred — by the naysayers throughout his career. He has set the school record for completions in a season, and he also has accounted for seven rushing touchdowns. With little if anything left to prove, Bennett enters the national championship game having thrown 21 touchdowns and seven interceptions this year.
---
Matchup to watch: TCU's offensive line vs. Georgia's defensive line
If TCU is going to have any chance at the upset, it's going to have to win this battle to give Duggan time to make plays and to establish its running game. Ohio State found ways to make big plays in the passing game against Georgia, and TCU certainly has the ability to do that, but the Frogs can't become one-dimensional.
Georgia entered Saturday night with one of the top rushing defenses in the country, holding opponents to 2.9 yards per carry and just five rushing touchdowns.
---
X factors
TCU WR Quentin Johnston. At 6-foot-4, 215 pounds, Johnston has created matchup problems for defenses and emerged as Duggan's top target with the ability to rack up yards after the catch. With another 163 receiving yards against Michigan, Johnston enters the national title game with a team-best 1,066 yards, 59 catches and six touchdown receptions — impressive numbers despite missing two games with a high-ankle injury. He has allowed the Frogs to stretch the field, and some of his best performances came against the toughest competition. His clutch touchdown catch at Kansas gave the Frogs the lead with just under four minutes to play. The following week, he did it again in a double-overtime win against Oklahoma State. Johnston is a first-round NFL draft prospect who could be the first receiver off the board.
Georgia: DT Jalen Carter: There's a photo from the SEC championship game that sums up the havoc Carter can wreak on a quarterback — not that LSU quarterback Jayden Daniels will need it to remember. In the picture, the 6-foot-3, 300-pound defensive tackle is holding Daniels effortlessly in his left arm like a toy, while holding up his right hand, signaling No. 1. That's exactly where he might be drafted, as Mel Kiper Jr. has Carter projected as the No. 1 overall pick. In the six games leading up to Saturday night's semifinal, Carter accounted for 24 tackles, 6.5 TFLs, three sacks and a pair of forced fumbles.